You probably know X-rays from the doctor's office, where the high-energy radiation helps create snapshots of bones.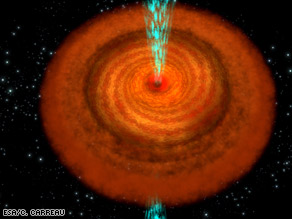 This artist's impression of a broad absorption line quasar shows material spewing out along the polar axes.
Far out in the depths of space, scientists have discovered a rare type of quasar emitting more X-rays than previously thought possible. The XMM-Newton, the biggest science satellite constructed in Europe, has recently given new insight into these mysterious phenomena.
Quasars are energy-pumping celestial objects thought to be powered by massive black holes. Scientists think the black hole that drives a quasar's energy production is the center of a distant galaxy.
Here's how quasars work: Matter that falls into the black hole gathers in a reservoir known as the "accretion disk," which gets very hot. Some of this gas gets thrown back out into space because of the radiation and magnetic fields, escaping the pull of the black hole, according to computer simulations.
This outgoing gas can massively impact the surrounding galaxy, and even stop stars from forming.
Broad Absorption Line quasars, or BAL for short, seem to have a thick cover of gas around them. BAL quasars constitute about 10-20% of all quasars. They generally don't seem to give off many X-rays, perhaps because the gas flowing out in the direction of the disc's equator absorbs that radiation. Watch an animation of a BAL quasar from the European Space Agency.
But two of the quasars that the XMM-Newton observed in 2006 and 2007 emitted more X-rays than they expected, suggesting that these quasars do not have absorbing gas around them.
The telescope's observations also show that, unusually, some quasars seem to eject material out along their polar axes, perpendicular to the accretion disc. Computer simulations also show that these outflows also consist of material falling in and then spewing back out because of the strong radiation, turned away before getting close to the black hole.
These surprising results may mean that BAL quasars are more complex than scientists expected. The researchers, who published their findings in the Astrophysical Journal Letters, hope to keep track of BAL quasars over a longer time period.
–Elizabeth Landau, Associate Producer, CNN.com
Filed under: Space