In North America, we have tornadoes - a nearly unheard-of weather phenomenon in much of the rest of the world. Last week, CNN Meteorologist Rob Marciano and Producer Marsha Walton reported on them here, reminding us why the rest of the world should be grateful. One year ago last weekend, the mile-wide town of Greensburg, Kansas was obliterated by a mile and a half wide tornado.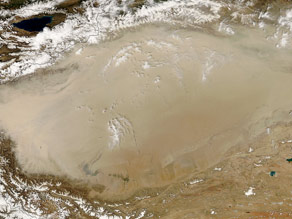 An Aqua satellite image of a dust storm in Taklimakan Desert, Western China. Source: NASA
But there are some things that the rest of the world gets that most of us in North America never see. It's sandstorm season in the Middle East. This week, a blustery weather system - common for April - caused problems from the Mediterranean to Kazakhstan, and just about everywhere in between.
NASA's MODIS website features a remarkable gallery of near-real-time satellite photography from the agency's AQUA and TERRA satellites. On Wednesday, each pass of the two satellites over the normally cloud-free Middle East and North Africa showed a parade of dust plumes - blowing sand moving away from the arid region.
Here are the best of the images:
A dust storm in Kazakhstan, blowing eastward over the Aral Sea;
A Gulf of Aden dust storm;
Persian Gulf ( at the bottom of frame);
The lower Red sea and Gulf of Aden;
Qatar, Saudi Arabia, and Persian Gulf (at the top of the frame);
Saharan sand blowing into the Mediterranean off of Libya.
Another image from China, taken on April 26, shows another of the world's dust storm hot spots: The Gobi Desert. Expanding due to drought and poor farming practices, the Gobi routinely blows dust into the populated areas of Eastern China, and offshore - some of it reaching North America, accompanied by China's legendary air pollution.
Dust or sand storms can impact aircraft - weather forecasters pay special attention to that. Commercial and military aircraft can incur a double risk from the storms - both visibility and engines can be affected. And it may be stating the obvious, but trying to live and breathe in a cloud of micro-particles can have a major respiratory impact for people as well.
If you're really, really eager to see an American-made dust storm, they're most common in the Southwest in mid-summer. Meteorologists call it a haboob, a name borrowed from the Sahara. They're intense, fast-forming storms caused by a downdraft of high winds. Last July, a haboob brought traffic in Phoenix to a standstill with 50 mile-an-hour winds. The National Weather Service reported a dramatic temperature drop of 18 degrees in less than an hour. Since we're talking about Arizona in July, that means it dropped to 91 degrees.
–Peter Dykstra Executive Producer CNN Sci-Tech & Weather
Filed under: environment • meteorology • Severe weather • Weather