Imagine the anticipation of a countdown before rocket engines roar to life.  Smoke billows, and it's three G's and eight-and-a-half minutes to space.
After you slip the surly bonds, you float over to the window and gaze wide-eyed at the majesty of Planet Earth.  Perhaps you'd spot the Great Wall of China, or even a big hurricane.  I'd have Bowie's "Ground Control to Major Tom" playing on my iPod.
Spaceflight tickles the imagination.  It's the stuff of heroes and explorers.  We remain in awe of the cosmos, and amazed at each incremental step toward the infinite.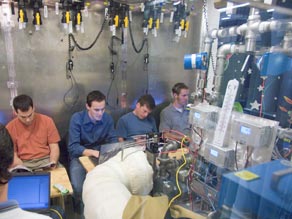 Now take a look at this photo.  The folks at Johnson Space Center in Houston sent this picture to me today.  Not exactly what you imagine while reading Jules Verne or Arthur Clarke.  It might be the NASA equivalent of witnessing hot dogs in the making.
You're looking at a test chamber scaled to be the size of the Orion crew capsule.  Orion, of course, is NASA's next-gen exploration vehicle.  It will carry crew and cargo to the space station and on to the moon.
The umbrella name for the entire program is Constellation, and the space agency is hoping to launch the first manned mission by 2015.
The chamber is the size of a walk-in closet – about 570 cubic feet – and the people sitting inside are volunteers recruited to test a lunar breathing system called CAMRAS.  (NASA likes its acronyms!)  It stands for Carbon-dioxide and Moisture Removal Amine Swing-bed.  Go figure.
But imagine sitting for eight hours in this thing with five other people you just met?  Twenty-three volunteers did just that for a series of tests over a three-week period last month.  The point: to breathe and sweat.  Sounds like the perfect job for an executive producer!
Seriously though, NASA has to measure the amount of moisture and carbon dioxide absorbed by the system so Orion crews can breathe easily and live comfortably in space.  Volunteers were asked to sleep, eat and exercise in the chamber.  Some test sessions lasted a few hours and others were overnight.
CAMRAS uses very little energy.  An organic compound called amine absorbs the CO2 and water vapor from the cabin.  And when the system vents the waste overboard, the vacuum of space regenerates the amine. Think of the venting as wringing out a dirty sponge.
For more on the test and NASA's Constellation Program, visit www.nasa.gov/constellation.
- Alex Walker, Producer, CNN Science & Technology
Filed under: International Space Station • Moon • NASA • Space