If so, you might want to check this page on the U.S. Geological Survey's site.  USGS has tagged ten walruses in the Bering Sea, and is following the enormous mammals to check on feeding habits.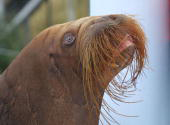 Walruses are not currently listed as an endangered species under US law, but the US is considering a petition to protect them.   Hunting of walruses is outlawed under the US Marine Mammal Protection Act, with certain exemptions given to traditional native hunters.
Okay, here's a challenge for loyal readers of the SciTechBlog:  Based on past performance, some of you will see this as valid research on a keystone marine species; others of you will see it as a waste of federal taxpayer dollars.   And at least one of you will make a bad joke about the John Lennon "Walrus" song.   So let 'er rip........
But whatever you may think of this, USGS is offering you a chance to hunt for sea otters.  Hunt for them in a photo, that is:
Southern Sea Otters tend to hang out in blobs of brown sea kelp.   The problem is that a brown sea otter, lolling around in a kelp bed, looks a lot like a blob of brown sea kelp itself.    There are four of them in the picture at this link, taken by USGS Researcher Brian Hatfield.   Click on the photo to see the location of the otters revealed. 
Peter Dykstra     Executive Producer     CNN Science, Tech, and Weather
Posted by: Brian Hatfield, sea otters, U.S. Geological Survey, walrus
Filed under: Animals • Oceans