EV Lacertae seemed like an unremarkable star. A teenager in star time – just a few hundred million years old – it shines with one percent of our sun's light and contains only a third of the sun's mass.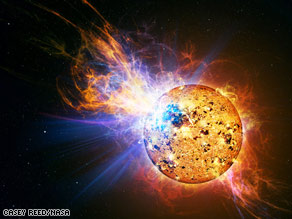 A powerful flare emerges from the star EV Lacertae in this artist's depiction.
Suddenly, a flare with the power of thousands of solar flares erupted from this red dwarf. It was the brightest flare ever seen from a normal star other than the sun. NASA's Swift satellite detected the flare on April 25, the agency just announced.
"Our sun was maybe as active as this for the first few to 10 million years," said Stephen Drake, senior research scientist at NASA's Goddard Space Flight Center. The sun "probably hasn't done anything like this in the last billion years."
The flare, which is a release of energy, could have implications for the search for planets that could inhabit life, Drake said. This type of star at this age still has a pretty hostile space environment, meaning any planets around it would have a very hard time supporting life.
If you're looking for planets that might have life, you probably don't want to look at stars less than a billion years old, Drake said. "It's pretty tough for life to develop given amount of ionizing radiation that would be hitting their atmosphere," he said.
The moody EV Lacertae rotates once every four days, while our sun rotates once every four weeks. The young star is more than 100 times as magnetically powerful as the sun because of its faster rotation, which generates more powerful localized magnetic fields.
When these magnetic fields get jostled around, they twist, break, and reconnect. A lot of energy gets released as a result, creating flares.
The flare from EV Lacertae was so bright that the energy shining back on the star made it brighten considerably, Drake said.
Had the star been easily observable at the time, the flare event would have been visible to the naked eye, NASA said. At a distance of 16 light years, or about 94 trillion miles, it is one of the closest stars to Earth.
The Konus instrument on NASA's Wind satellite first detected the flare, then Swift's X-ray telescope caught it a couple minutes later, NASA said. But the flare was so bright that Swift's Ultraviolet/Optical Telescope shut itself down for safety reasons.
–Elizabeth Landau, Associate Producer, CNN.com