On Sunday, a few hours after the checkered flag signals the winner of the Indianapolis 500, a much, much longer trip will conclude: After a nine-month, roundabout 422 million mile journey from Earth, NASA's Phoenix Mars Lander will take aim at a site near the Martian North Pole.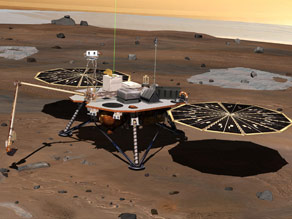 Source: NASA/JPL/Univ. of Arizona
And like the fans at Indy, everyone will be waiting to see if there's a wreck.
Phoenix will enter the Martian atmosphere at 12,500 miles an hour. After deploying parachutes and firing thrusters, and at a speed of about 5.4 miles an hour, it will touch down at about 7:38pm Eastern Time. Or so NASA hopes. Mars landing craft have a roughly 50-50 success rate since the twin Viking landers touched down 32 years ago. With a communications delay of about 15 minutes, we'll get our first info on the landing status at 7:53pm ET.
CNN's Miles O'Brien will cover the landing live in a special hour broadcast beginning at 7pm ET. CNN International will carry the broadcast worldwide, featuring Miles's international counterpart, Kilometers O'Brien (sorry, it's an old joke around here......).
Later in the evening, around the 10pm hour, we hope to show the first images from Phoenix. Unlike the spectacularly successful Mars Rovers, Spirit and Opportunity, Phoenix is not a mobile craft. It's a digger.
Equipped with a small backhoe, Phoenix will dig into the Martian tundra in search of evidence of water, or other clues of past life on the Red Planet. Its predecessor in Martian Polar research, the Mars Polar Lander, was lost on landing in 1999.
Miles and CNN producers Kate Tobin and Alex Walker will broadcast the hour from NASA's Jet Propulsion Lab in Pasadena, California, mission control for the landing. They'll blog here to keep you updated - including after that tense moment at 7:53pm, when we learn whether a team of scientists and engineers will see years of work turn into a smashing success, or a smashup.
Next Saturday, the space scene shifts to the Kennedy Space Center, where the Shuttle Discovery is set to launch at 5:02pm ET on a mission to install a Japanese-built lab on the International Space Station, and to swap out ISS crew members. Miles will be live from KSC for the launch as well.
-Peter Dykstra, Executive Producer, CNN Science & Tech
Filed under: Astrobiology • European Space Agency • International Space Station • Mars • NASA • Space