The CNN team is on ground here in Pasadena, California, getting ready for the Mars landing tomorrow night. Ground zero for the action is the Jet Propulsion Laboratory, which is a unique NASA center in that it is a joint effort between the space agency and Caltech. There is also a contingency of scientists here from the University of Arizona, led by Mars Phoenix principal investigator Peter Smith. Assuming all goes well with the landing and the spacecraft is healthy, the science "mission control" for Phoenix will be run out of the Lunar and Planetary Lab in Tucson.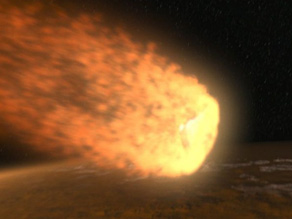 Mars Phoenix begins its fiery entry into Mars' atmosphere. Source: NASA/JPL/Univ. of Arizona
The scientists and engineers who are overseeing tomorrow's entry, descent and landing will have their heads together in the coming hours to make some decisions about tweaking the spacecraft's final approach to Mars. They have two "trajectory correction manuever opportunities" remaining, one late tonight and another about noon Eastern time tomorrow. That means two chances to fire onboard rockets to subtly steer the spacecraft and put it on the optimal route toward the target landing site.
So, excitement is building as landing time draws near. Please do join us for an hour special around the landing Sunday night at 7pm Eastern//11pm GMT for our worldwide viewers. Miles O'Brien is anchoring and he'll be joined by special expert guest Dr. Steve Squyres of Cornell, whom you may know as lead scientist for the Spirit and Opportunity rovers.
Here's a little tick-tock of key events Sunday night (all times Eastern):
7:46pm Phoenix enters Mars' atmosphere
7:53pm Phoenix lands
7:54pm Scheduled loss of communications (Phoenix will use the Mars Odyssey orbiter as a communications relay, and Odyssey will move out of range of the Deep Space Network almost immediately after Phoenix lands. Bummer.)
9:43pm Communications resume, first opportunity for images. If all goes well, watch for those images on CNN in the 10pm ET/2am GMT hour, with more to come on Monday morning.
–Kate Tobin, Senior Producer, CNN Science & Technology
Filed under: Astrobiology • Mars • NASA • Space