One of the most important roles an orbiting spacecraft can play is helping identify potential landing sites for the next lander.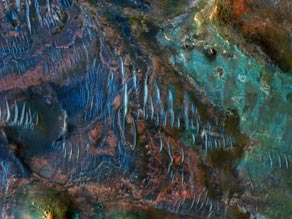 This is a false color image of an intriguing site for the next Mars rover – the Mars Science Laboratory – a huge nuclear-powered rover that will have much more capability and range than Spirit and Opportunity.
Scientists used a spectrometer on the Mars Reconnaissance Orbiter to locate this site – which is dotted with clay deposits.
They then took a high resolution picture – and added some false color to make it easier to see the clay (reddish spots).
Martian clay would be a cool thing to find and analyze since it is, of course, formed in the presence of water.
By the way, the resolution on this image is about one foot (30 cm) per pixel – that's High-Def by Mars exploration standards – and a long way from those early faxes from Mariner!
– Correspondent Miles O'Brien, CNN Science & Technology
Join Miles this Sunday at 7pm Eastern for an hour-long special on the next Mars landing. The Phoenix Mars lander is scheduled to touch down on the Martian surface during the hour. Miles will be LIVE from mission control at the Jet Propulsion Lab in Pasadena, California. His guest for the hour is Steve Squyres, lead scientist on the Mars Rovers.
Filed under: Mars • NASA • Space