The water story on Mars is as old as the legendary canals "discovered" by Percival Lowell – and spun into science fiction classics like "War of the Worlds" (remember, the Martians invaded Earth in search of water).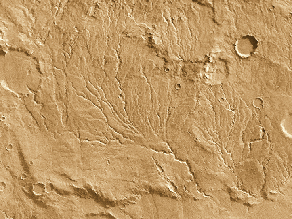 The Mariner and Viking orbiters did not find canals – dry or otherwise – but they sure found plenty of dry riverbeds. Just one look at this picture – and you know what was happening here millions of years ago.
You don't need to be a rocket scientist, an astrophysicist or a geologist to figure that out.
That is not to say there were once Martian whitewater rafting trips – but it is not too far-fetched to think something was swimming in the Mars water epochs ago.
That notion is what drives scientists to keep exploring Mars. And it all began with images like this one.
– Correspondent Miles O'Brien, CNN Science & Technology
Join Miles this Sunday at 7pm Eastern for an hour-long special on the next Mars landing. The Phoenix Mars lander is scheduled to touch down on the Martian surface during the hour. Miles will be LIVE from mission control at the Jet Propulsion Lab in Pasadena, California. His guest for the hour is Steve Squyres, lead scientist on the Mars Rovers.
Filed under: Mars • NASA • Space