This is a Viking image of the Valles Marineris – which was discovered by Mariner 9 despite a global dust storm. The canyon makes our Grand Canyon seem puny – it spans 2500 miles and is between 3 and 6 miles deep.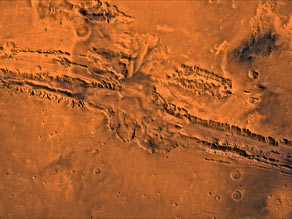 – Correspondent Miles O'Brien, CNN Science & Technology
Join Miles this Sunday at 7pm Eastern for an hour-long special on the next Mars landing. The Phoenix Mars lander is scheduled to touch down on the Martian surface during the hour. Miles will be LIVE from mission control at the Jet Propulsion Lab in Pasadena, California. His guest for the hour is Steve Squyres, lead scientist on the Mars Rovers.
Filed under: Mars • NASA • Space