This Mars rover landed near some very interesting craters created by meteor impacts thousands of years ago.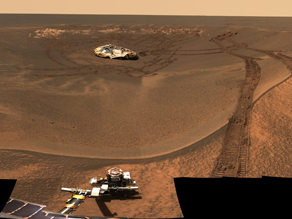 Those impacts left bedrock exposed in outcropping. For a geologist, bedrock outcropping might as well be made of gold.
While you never know where a loose rock might have come from, embedded layers exposed in outcroppings tell the accurate history of a that place – you just have to be able to read "rock".
The rocks here tell a story of a very different looking Mars – one with water on – and below – the surface. Here on Earth, water is the key ingredient for life – wherever it is found – you will find living things.
Seems logical that would be the case on Mars, but the smoking gun fossils remain elusive.
– Correspondent Miles O'Brien, CNN Science & Technology
Join Miles this Sunday at 7pm Eastern for an hour-long special on the next Mars landing. The Phoenix Mars lander is scheduled to touch down on the Martian surface during the hour. Miles will be LIVE from mission control at the Jet Propulsion Lab in Pasadena, California. His guest for the hour is Steve Squyres, lead scientist on the Mars Rovers.
Filed under: Mars • NASA • Space