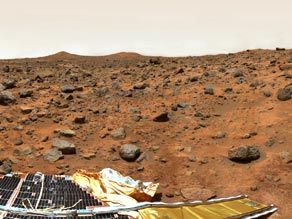 Pathfinder was a real milestone for NASA. It marked the first visit to the Red Planet after a nearly 20-year hiatus. It was one of the first real Internet events.
For the first time, everyone had the same access to images from space at nearly the same time as the scientists and NASA's websites got millions of hits.
The mission was meant as a technology demonstrator – and ushered in a new philosophy known as "faster, better, cheaper."
When the next two missions to Mars crashed in 1998, that notion went the way of Lowell's canals.
– Correspondent Miles O'Brien, CNN Science & Technology
Join Miles this Sunday at 7pm Eastern for an hour-long special on the next Mars landing. The Phoenix Mars lander is scheduled to touch down on the Martian surface during the hour. Miles will be LIVE from mission control at the Jet Propulsion Lab in Pasadena, California. His guest for the hour is Steve Squyres, lead scientist on the Mars Rovers.
Filed under: Mars • NASA • Space