This is Victoria Crater – one of the places Opportunity spent so much time exploring.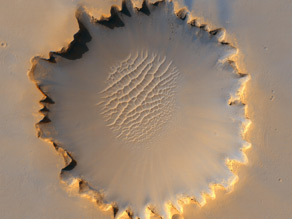 In this big image taken from orbit you can see the plucky rover – if you take the – er – opportunity to check out this legend, you should be able to find it.   
The High Resolution Imaging Science Experiment on MRO - or Mars Reconnaissance Orbiter - is able to resolve objects as small as three feet across. 
These pictures helped the rover team decide whether a safe path existed for the rover to enter the 2 and a half mile wide crater.
– Correspondent Miles O'Brien, CNN Science & Technology
Join Miles this Sunday at 7pm Eastern for an hour-long special on the next Mars landing.  The Phoenix Mars lander is scheduled to touch down on the Martian surface during the hour.  Miles will be LIVE from mission control at the Jet Propulsion Lab in Pasadena, California.  His guest for the hour is Steve Squyres, lead scientist on the Mars Rovers.
Filed under: Mars • NASA • Space