This image from the surface of Mars offers some proof Kilroy's robot was there.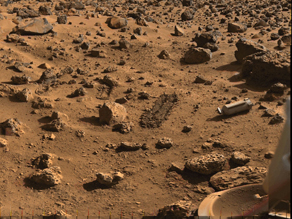 Note the trenches where Viking was scooping dirt for analysis and the hermetic cover for the scoop.
One thing you don't want to do is bring a contaminated shovel to another planet. You might find life – and discover it came from Merritt Island, Florida.
Or worse yet, I supposed you could pull a reverse Andromeda Strain.
– Correspondent Miles O'Brien, CNN Science & Technology
Join Miles this Sunday at 7pm Eastern for an hour-long LIVE special on the next Mars landing.
Filed under: Mars • NASA • Space