Miles was kind enough to invite me - along with Senior Producer Kate Tobin - to dinner last night with Steve Squyres. If you don't know who he is, then you have no business in Pasadena. He is a legend around here.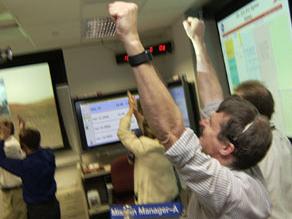 Dr. Steve Squyres reacts to the images of Spirit leaving its lander in January 2004. Source: NASA/JPL-Caltech
Think about this: in the course of humankind, we've had 5 successful landings on the Red Planet. Steve was the lead scientist for two of them!
As the principal investigator for the science instruments on the Mars Exploration Rovers, Spirit and Opportunity, Steve was certainly the most interesting and insightful person to chat with here on the eve of the next Mars Landing (cross your fingers).
But to shoot the breeze with him over some beers at a local brew pub was borderline surreal. I turned to Miles at one point while Steve and Kate were chatting. He saw the look on my face and said with a boyish grin, "Pretty cool, huh? We're just schleppy TV people!"
Not long after Steve arrived, a server brought over a shot of tequila and set it down in front him along with a note that read, "Nice rovers!" Some other patron had immediately recognized Steve and sent a drink his way. Like I said, if you don't know who he is, don't come to Pasadena.
Steve will be Miles' guest tonight for the hour. Tune in for LIVE! Mission to Mars tonight at 7pm Eastern.
- Alex Walker, Producer, CNN Science & Technology
Filed under: Mars • NASA • Space