Pasadena, California (CNN) – Anxious mission directors are counting the hours and holding their breath as the cruise vehicle for the Phoenix Mars Lander starts to feel the pull of Martian gravity.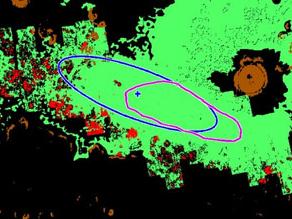 Phoenix Mars landing zone in the Martian polar north. The blue ellipse is 60 km by 20 km. Source: NASA/JPL-Caltech
The lander is just hours away from ending its 296-day, 422-million-mile journey, and has about a 50-50 chance of touching down successfully on the arctic plains of the red planet's polar north.
If all goes well, mission control will hear the lander's "beep" from the surface in the tense minutes after a planned touchdown of 7:53pm Eastern time.
At the final pre-landing briefing, principal scientific investigator Peter Smith said he has "been feeling the pull of Martian gravity for 15 years", highlighting just how important this mission is for his life's work.
He said the scariest moment for him would be losing the lander's signal during descent. Team members are calling it the "seven minutes of terror", at which time the spacecraft will be dropping like a hot rock through the super-hot friction of the Martian atmosphere.
The craft has to drop its heat shield, deploy a parachute, and finally fire its thrusters to slow down to a rough, 5 mile-per-hour landing.
"There's nothing else to do but watch," said Phoenix project manager Barry Goldstein of NASA's Jet Propulsion Lab.
Earlier today his team waved off the chance to make one final course-correcting maneuver, and is calculating a ninety-nine percent probability that the lander will touch down inside an ellipse that is 60 kilometers long by 20 kilometers wide.
He said he was agonizing over a diffused rock pile within that landing zone, but that it was only a point-one percent chance the lander would hit it.
- Alex Walker, Producer, CNN Science & Technology
Filed under: Mars • NASA • Space