Before I left for Pasadena, I hopped on the A train to pay a visit to my favorite space robotics shop in Manhattan, on 34th and 10th.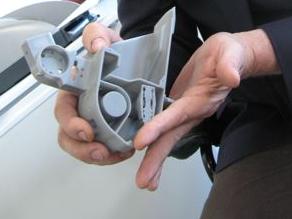 Honeybee Robotics is run by Steve Gorevan – a giant guy with an equally big tuft of white hair.
Honeybee made the Rock Abrasion Tools (RATs) for the Mars Rovers Spirit and Opportunity.
Gorevan's smart team built the shovel for the Phoenix Mars Lander. But it is much more than just a shovel.
Phoenix is is the first spacecraft to head north of the Marian Arctic Circle. If all goes well, it will set up shop on the tundra south of the permanent polar ice cap.
And even though it is summer and the sun will not set during this 90-sol (a Martian day) mission – it is pretty darn cold there (the average is -50 degrees C/-45 degrees F).
Back in 2004, the Mars Odyssey detected water ice in the spot where Phoenix is headed (there is a lot of CO2 ice at the pole as well). The ice is hard enough – but when it is mixed with soil, it forms an even tougher bond.
Bottom line, scientists firmly believe they are to a pretty firm place. Matter of fact, they believe the tundra there will be much harder than a concrete sidewalk.
Scraping a shovel over that would do no good at all – so the team asked Honeybee for a solution.
Their ingenious idea: adding a small rasp that sticks out of the backside of the shovel and spins a high RPM.
The rasp should have no problem chipping away at the tundra – sending it into the shovel – which will in turn drop the ice/dirt mix into one box that will heat it up – and another that will mix it with water to see what it is made of.
The arm is also equipped with its own camera that will be able to get microscopic images of the soil.
When all is said and done, scientists hope they will see some organics. That does not prove there is or was life on Mars – but it would be a big step on the road to answering that question once and for all.
And that would be a minor miracle from 34th street.
- Correspondent Miles O'Brien, CNN Science & Technology
Filed under: Mars • NASA • Space