Check this out...it is one of the first color pictures from Phoenix.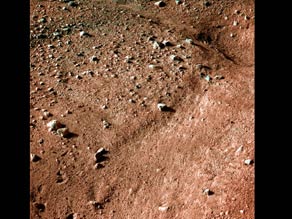 Source: NASA/JPL/Univ. of Arizona
To scientsts, this terrain looks a lot like Earth's arctic tundra. Data from the Mars Odyssey spacecraft has shown that this area is rich in water, most likely in the form of permafrost. The Phoenix science team is betting that the cold conditions at the pole have preserved all sorts of organic chemicals in the ice.
Analysis of those chemicals will help scientists figure out if conditions were ever right in this location to nurture life. As for finding actual living organisms, such as microbes, lead scientist Peter Smith plays down the likelihood. The instruments really aren't designed for that. And, as Smith puts it, it would be an incredible stroke of luck to find life on the first try. It's not like there's a signpost on Mars telling us Earthlings to "Look Here for Life!" with a big arrow pointing to it!
–Kate Tobin, Sr. Producer, CNN Science & Technology
Filed under: Mars • NASA • Space