Here's one of the first images from Phoenix Mars Lander showing what the landscape looks like on the frozen tundra of Mar's Northern plains.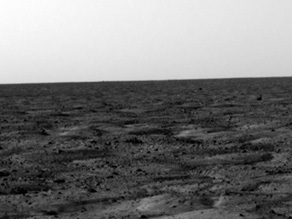 Source: NASA/JPL/Univ. of Arizona
It looks pretty much as they thought it would – flat as far as the eye can see. The expectation is that the ground in the area is a mixture of dirt and permafrost, and the scientists say it is as hard a concrete.
Phoenix's robotic arm is outfitted with a little rasp that can be used to drill down into that hard ground to loosen it. A scoop on the end of the arm will then scrape it up and transport it to the science instruments aboard the lander.
One part of the instrument suite involves a set of tiny ovens that will heat up and vaporize some of that icy dirt an analyze the chemical components. Another experiment will mix Martian dirt with water brought from earth in little tea-cup sized reservoirs, this time to study the chemistry of the soil.
The Phoenix team will hold another briefing at 2p Eastern today, where we will hopefully see more pictures and hear more about the plan going forward. If things go as planned, they will start moving the robotic arm as early as Tuesday.
–Kate Tobin, Sr. Producer, CNN Science & Technology
Filed under: Mars • NASA • Space