There is no assignment more fun in my world than a Mars landing. The mix of excitement, anxiety and adventure are hard to match.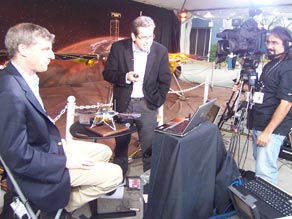 Steve Squyres from the Mars Rovers team, CNN's Miles O'Brien and photographer Styke Dimas
I think much of the allure has something to do with the "all-in" high-stakes gamble that is the coin of the realm in this racket.
The people who populate the business of exploring other planets would probably be at home playing poker on a riverboat.
I cannot think of another profession where so much time and effort is focused on a single, highly risky event. If only one widget fails, they all go home empty handed – their blood, sweat time and tears down the tubes.
But when they win, they win big. Really big. And the thing is we all get to share in the winnings – because these riverboat gamblers play with an open hand.
Maybe they will turn over a card on Mars and find something very profound – something that makes us think about our place in the universe.
What are the odds anyway?
- Correspondent Miles O'Brien, CNN Science & Technology
Filed under: Mars • NASA • Space