Okay, so I'm here in Pasadena covering the Mars landing, but yet another planet has stolen my attention for the moment. My brother sent this compelling picture to me. Do you recognize it?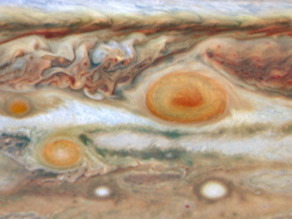 Source: NASA, ESA, M. Wong, I. de Pater (UC Berkeley), et al.
No, it's not a plate of bacon and eggs. For more than 300 years, that signature storm on Jupiter known as The Great Red Spot has been eye candy for telescopic viewers around the world.
In 2006, a second red spot appeared, and just last month the Hubble trained its Wide Field and Planetary Camera 2 on yet a third one.
So what accounts for this planetary acne outbreak? Prom season perhaps?
Scientists think climate change is the culprit, as the giant gas planet gets warmer near the equator.
- Alex Walker, Producer, CNN Science & Technology
Filed under: Jupiter • NASA • Space