Tuesday's communications glitch between Phoenix and the Mars Recon Orbiter is resolved, Phoenix Project Manager Barry Goldstein today reporters at today's press briefing.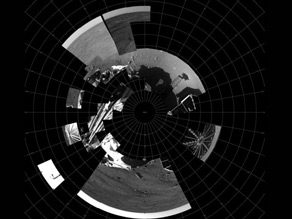 "Fisheye" view of Phoenix Mars Lander looking down on itself. Source: NASA/JPL/Univ. of Arizona
Engineers designed Phoenix to use the two NASA satellites orbiting Mars as relay stations to send and receive data and commands with mission controllers. That relay link failed Tuesday morning when MRO experienced a radio transmission malfunction just as it was to send Phoenix its do-list for the day. The evening transmission went off without a hitch - but, while they sort out exactly what happened with MRO, project managers are going to use the other orbiter, Mars Odyssey, to do much of the communications heavy-lifting. Both satellites make at least two good passes over Phoenix every day, so the impact on the mission should be minimal.
In the mean time, the team is testing out Phoenix's robotic arm today and tomorrow, and if all goes well they'll start digging operations early next week. Phoenix is designed to dig down into the Martian dirt to scoop up soil and ice. The lander is equipped with a suite of instruments designed to look for organic chemicals frozen in that permafrost layer that may indicate whether or not Mars was once an hospitable place for life to have existed.
–Kate Tobin, Senior Producer, CNN Science & Technology
Filed under: Astrobiology • Mars • NASA • Space