The launch control team says everything everything is looking good for lift-off of the shuttle Discovery Saturday afternoon at 5:02pm. They are working no issues of note with orbiter, and the weather is looking great - 80% go for launch.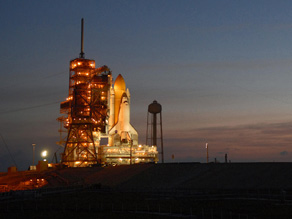 Shuttle Discovery. Source: NASA
Here's a quick look at the milestones of this flight:
-123rd shuttle flight
-35th flight of Discovery
-26th shuttle mission to the ISS
-98th post-Challenger mission
-10th post-Columbia mission
-11 flights (including this one) remaining in the shuttle program
The main goal of this mission is to take up the primary component of the Japanese Kibo laboratory to the station. They will also switch out ISS crew members (Greg Chamitoff goes up, Garrett Reisman comes home), and do some additional troubleshooting of the balky starboard rotary joint that has the solar arrays on that side of the station pretty much in a lock-down position.
All that aside, the headline grabber in this run-up to launch is the broken toilet on the ISS. A replacement part has been rushed to the Kennedy Space Center (in a diplomatic pouch, no less!) and has been stowed in the Discovery's cargo bay for emergency delivery to orbit. Basically the liquid waste collection system on the toilet is not functioning properly, and the astronauts are having to go through a time-consuming manual "flush" procedure multiple times a day. Hopefully, the new part will work and the crew can put this all behind them. In order to equip the station to transition from a three to six person crew, a second potty will be going up to the ISS on the shuttle in the near future.
Miles O'Brien will be reporting live from the Kennedy Space Station in Florida for the launch. He'll be joined by astronaut Doug Wheelock. Please join us!
–Kate Tobin, Senior Producer, CNN Science & Technology
Filed under: International Space Station • NASA