Make room for the Japanese space program!
A big room, actually. STS-124 is the second of three shuttle missions to deliver Kibo (pronounced Kee-bo) components to the International Space Station. This scientific lab is far bigger than the European Space Agency lab, Columbus, or NASA's Destiny lab.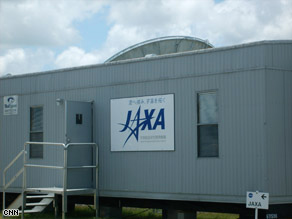 JAXA employees are busy at the Space Center
And it's also a big deal for JAXA, the Japan Aerospace Exploration Agency.
"This mission is the first step to getting everything working," said Asaka Hagiwara, a JAXA public affairs officer. She is one of about 60 JAXA employees now at the Kennedy Space Center, as the heart and soul of the Japanese laboratory is poised for delivery to the International Space Station.
Hagiwara, whose background is in astronomy and engineering, says she sees her job as making the Japanese space program interesting to a general audience in Japan.
She says the Discovery launch is a "pretty big deal" in Japan. Japanese TV networks, newspapers, and Internet reporters are following the countdown, with about two dozen Japanese journalists on site at KSC.
Discovery will be transporting the Japanese Pressurized Module (JPM) and the Japanese Experiment Module Remote Manipulator System. The JPM will be the nerve center of the lab. Most experiments, robotic operations, and communications with earth will take place inside it.
Kibo, (which means hope in Japanese) has been described as the "Lexus" of ISS labs. It is cylindrical, about 37 feet long and 14 feet wide. When it is fully assembled, the billion dollar facility will weigh about 16 tons. Think: really, really nice tour bus!
So what's inside? The Clean Bench is a germ free environment, with a specially designed microscope for biotech experiments. There is also a Cell Biology Experiment Facility, a Fluid Physics Experiment Facility, Protein Crystallization Research Facility, and an Image Processing Unit.
And yes, it does help to be a rocket scientist to understand what's ahead for this laboratory!!!
JAXA astronaut Akihiko Hoshide, a mission specialist on the Discovery crew, is scheduled to lead other crew members inside Kibo for the first time at the end of flight day five. Eventually the lab will have a "porch" for outside the spacecraft experiments, and two of its own robotic arms.
Kibo will be monitored both by NASA Mission Control in Houston, and the Mission Control Room at the Tsukuba Space Center in Japan.
Hagiwara is looking forward to the Discovery launch, at the very civilized time of 5:02pm Eastern. Kibo's first delivery mission started with a middle of the night shuttle Endeavour launch in March.
"I was very tired!" she laughed.
Marsha Walton, producer CNN Science and Technology