The most talked about cargo on the shuttle Discovery?
There's that billion dollar Japanese laboratory…
The spare parts for the toilet…
And Buzz Lightyear!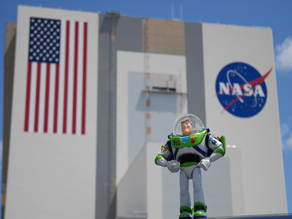 Buzz in space: talk about product placement!
And depending on whether you're a Japanese scientist, a space station crewmember tired of dealing with a primitive potty, or the PR folks at Walt Disney World… the order may vary.
The Japanese lab, known as Kibo, will be the nerve center of a scientific outpost that's been in the works for years. Eventually, researchers will be able to work in five different experiment modules, focusing on everything from cell biology to fluid physics.
Far less scientifically exotic, but ever so necessary in this orbiting home away from home, a gas-liquid separator, urine collector bags, filters and other hardware to fix an only partially functioning toilet in the Zvezda service module.
And one of the goofier objects to hitch a ride on a shuttle (with an important educational component, of course) is a foot tall Buzz Lightyear action figure.
Astronaut and moonwalker Buzz Aldrin shows his lighter side in a video counseling young Buzz Lightyear about what it's like flying in space. Catch it here:
http://www.youtube.com/watch?v=1PsOB3flufQ
Lightyear will try to get kids interested in the space program, and especially in math and science. And of course, encourage them to check out a new ride called Toy Story Mania! at both Walt Disney World in Orlando and Disneyland in California. The younger and smaller Buzz is scheduled to spend several months on the International Space Station, and return to Walt Disney World later this year.
A few sports items are also making the journey.
Among them, according to NASA: One of Lance Armstrong's yellow jerseys from the Tour de France bicycle race, a backup jersey that New York Giants' Eli Manning took to the Super Bowl, and the last jersey baseball's Craig Biggio wore in a game. (He played for the Houston Astros, OF COURSE!)
Marsha Walton, CNN science and technology producer at the Kennedy Space Center