When the iPhone frenzy first began last summer, a lot of people like me held back, vowing to wait for Apple to reduce the price and make the technology even better.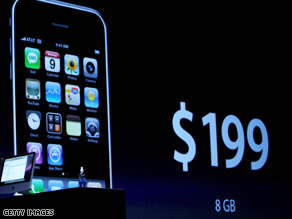 Apple CEO Steve Jobs announced the next generation of iPhones Monday at a conference in San Francisco.
Now, says Apple CEO Steve Jobs, that day will soon come. Not only will the minimum price tag come down to $199, but the next generation of iPhones will have 3G technology.
What's that, you say? As CNET explains, 3G brings wireless broadband data services to your cellphone, meaning you can surf the internet at very high speeds. Apple's Web site says the iPhone will use HSDPA (High-Speed Downlink Packet Access) protocol to download data over UMTS (Universal Mobile Telecommunications System) networks. The bottom line is that it will seamlessly switch between networks to get data as fast as possible.
But are we really ready to shell out the $199 for this better-than-ever iPhone?
If you had an incredibly powerful slender little friend in your pocket that could check your e-mail, locate your precise position in the world, call anyone you wanted and cue up your favorite songs, you would play with it a lot. A LOT.
In fact, you'd want to play with it so much that you might stop paying attention to conversations with your friends and family because you'd constantly want to check your e-mail or verify a fact that someone just mentioned. Trivia nights would be particularly torturous, as you could just find out the answers in seconds. You might feel like a perpetually-distracted teenager. Gadgets like these tend to bring out the perpetually-distracted teenager in us all, especially those of us who weren't teenagers very long ago.
Yet, this could be a great purchase for those of us without cars who commute on trains and buses, and wouldn't have to worry about keeping our eyes on the road while we surf the Web. And don't forget that $199, after all, is merely three-and-a-half tanks of gas these days. The iPhone could thus take your mind anywhere you want to go when the bus is definitely not going anywhere soon. When put like that, it does seem like an amazing investment.
I'm also intrigued by the new iPhone's applications, such as the mobile blogging software. Apple will also launch a nifty music program for the iPhone - Moo Cow Music's Band - that allows you to compose music with multiple instrument sounds on the go. That concept alone makes musicians' mouths drool. At last, we won't be restricted to playing "Mary Had a Little Lamb" with touch-tone phone numbers.
Still, remember that the iPhone is still only compatible with AT&T, meaning those of you who have other networks will have to abandon your plans. This isn't an issue for me –- my original 2001 Nokia brick was hooked up to AT&T before it was Cingular and then became AT&T again! –- but all of you with other carriers may have some paperwork and contractual fees to deal with. Consider also that Samsung is apparently coming out with a 3G phone hooked up to Sprint. Check out this comparison of upcoming 3G phones.
So, as long as you're willing to use it responsibly and do that AT&T thing, getting the new iPhone 3G seems like a pretty good idea. But that might mean thousands of people camping out in front of Apple stores who also think it's a good idea. Ugh, this could be complicated. But afterwards tracking flights, finding a restaurant, and looking up the names of the pandas at Zoo Atlanta will be so, so simple.

–Elizabeth Landau, Associate Producer, CNN.com
Posted by: Elizabeth Landau -- CNN.com Writer/Producer
Filed under: Internet