My initial excitement over the cheaper, faster iPhone quickly faded when I learned that the new low price is somewhat deceptive.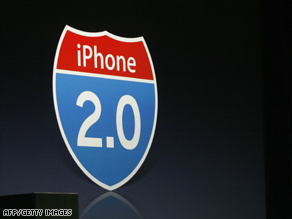 While the price seems to have dropped, do the math before you go the iPhone 3G route.
While it's true that the device itself will cost $199, actually using the thing would become a significant monthly expense. In fact, the AT&T press release states that data plans for consumers will be available for $30 per month, in addition to voice plans starting at $39.99 per month. Bottom line: $69.99 per month if you're going to use both internet and voice features. That's a $10-per-month increase from the iPhone plans that have been in effect since last July. Business customers will have to pay even more: $45 per month on top of the voice plan.
Again, AT&T is the only carrier you can use with the iPhone 3G, and you must sign up for a two-year contract. And don't forget these prices don't include tax.
Let's think about this: would you rather get an iPhone now for $399 and pay $59.99 per month, or wait until July and pay $199 for the iPhone 3G with the $69.99 per month plan?
After two years, you will have spent $1838.76 on the slower, more expensive iPhone with the cheaper plan - and $1878.76 on the cheaper, faster iPhone with the more expensive plan. At the end of the day, the iPhone 3G is actually $40 more expensive. Regardless of the $200 price drop on the product itself, each iPhone customer is paying more than $1800 in usage fees. And that's a lot of money no matter how you look at it.
The bottom line is that the total price for owning and using an iPhone for two years isn't going to change much at all with the new iPhone 3G.
Why is this happening? Apparently AT&T and Apple have changed their business relationship so that they don't share revenue anymore. The cost of the device itself is getting subsidized, and the cost of the monthly plan is going up.
–Elizabeth Landau, Associate Producer, CNN.com
Posted by: Elizabeth Landau -- CNN.com Writer/Producer
Filed under: Internet