Fire retardants in deep sea squids?
Marine scientists now have evidence that a whole range of chemical contaminants have found their way to the deepest and most remote parts of the ocean.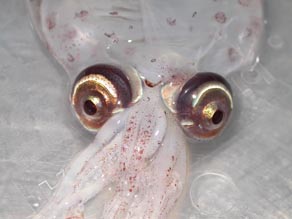 The cockatoo squid is one species impacted by contamination. It's found in deep waters off New England. Photo by Michael Vecchione, NOAA
"Most people think the deep sea is so far away that humans don't affect it," said Michael Vecchione, a cephalopod biologist at NOAA Fisheries' National Systematics Laboratory.
Cephalopods include octopods, squids, cuttlefishes and nautiluses. The toxic chemicals that Vecchione and colleagues from the Virginia Institute of Marine Science found are a rogues gallery of scary initials: PCBs, TBTs, BDEs, and DDT* among them. Scientists classify all of them as POPs, or persistent organic pollutants. It means they don't break down, and stay in the environment... pretty much forever.
It's not yet clear what level of these chemicals could harm or kill these deep sea creatures.
"Some of them had surprisingly high levels," said Vecchione. And because these marine animals are, ok, odd in their physical structure, Vecchione said they simply don't have the ability to get rid of the chemicals once they are inside their bodies.
One reason for the study was to find out more about how these contaminants go up and down the food chain. Deep sea squids and octopods are the main food source for some of the most iconic marine mammals: beaked, sperm, killer, and beluga whales; narwhals, dolphins and porpoises. Other marine scientists have found these POP chemicals in the blubber and tissue of both whales and fish.
From the NOAA ship Delaware II the researchers used nets to collect animals from depths of 3,300-6,600 feet. The researchers analyzed 22 specimens collected in an area of the Atlantic Ocean called Bear Sea Mount, off the coast of New England.
"Contamination of the deep sea food web is happening, and it is a real concern," said Vecchione.
Vecchione has also conducted Arctic and Antarctic marine biology research.
So how did he get into the octopus and squid world?
"They're weird. The environment is alien. It is so different from what we are used to, I find it personally fascinating," said Vecchione. His study will be published in the journal Marine Pollution Bulletin.
*You knew there was going to be a test:
PCB: polychlorinated biphenyl, compounds used to insulate electrical transformers, also used in paints and adhesives. PCB production was banned in the U.S. in the 1970s.
TBT: tributyltin, a compound used as a paint on boat hulls to stop marine creatures from clinging to them. Regulated since late 1980s, extremely toxic to sea life.
BDE: brominated diphenyl ethers, used as flame retardants in plastics, furniture and electronics. Still debate about health concerns; banned in some states and the European Union.
DDT: dichlorodiphenyltrichloroethane, a pesticide banned in the U.S. in the 1970s, still used in some countries to control malaria.
Marsha Walton, CNN science and technology producer
Filed under: Animals • environment