Hurricanes Katrina and Rita stole more than 200 square miles of coastal wetlands from Louisiana. Over the past 80 years, hurricanes and the human harnessing of the Mississippi River have destroyed enough marshland to cover the state of Delaware.
Can it ever come back?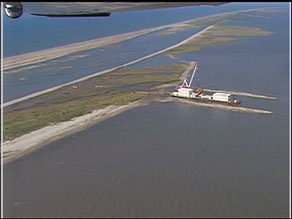 Louisiana coastal scientists are pumping in sand to restore barrier islands damaged by hurricanes (CNN)
This week Louisiana adopted a plan that will make $224 million available for coastal restoration projects. It's part of a "Master Plan" to protect people, business, and wildlife habitat from coastal loss– while at the same time strengthening hurricane protection.
"New Orleans is an interesting place to be now. It is dawning on the community that the cavalry is not going to show up with the big answers," said Mark Davis, director of the Institute on Water Resources Law and Policy at Tulane University Law School.
Davis said the post-Katrina realization that government did not have all the answers has prompted some energetic self- sufficiency.
"The healthiest part of this is the desire for honest information, honest answers, and that's from business and civic organizations as well as the most grass roots neighborhood organizations," he said. "The strength right now of this community is that it is optimistic."
The "Master Plan," adopted by The Louisiana Coastal Protection and Restoration Authority (CPRA), was written by scientists and engineers. But it had to consider the needs of the science community, conservation groups, the oil, gas, shipping, and fishing industries, not to mention boatloads of politicians. (CPRA of Louisiana was established in 2005, according to its mission statement, "to speak with one clear voice for the future of Louisiana's coast.")
Davis said he is excited by the really creative people who have come to New Orleans. "This is the place to be to do good," he said. And if they are successful, other coastal communities may then learn about everything from insurance issues, to sea level rise from global warming, to land use planning.
One key to bringing the delta back to life is to allow the sediments and nutrients flowing down the Mississippi River to recharge the state's wetlands and barrier islands.
"We have to give the coastal wetlands a fighting chance," said Professor Denise Reed, an expert on coastal marshes at the University of New Orleans.
"That we have such extensive wetlands is testament to their strength," said Reed, who has been working on the development of restoration plans for coastal Louisiana for the past five years.
Reed says humans have put the Mississippi River in a "straitjacket" with levees and other alterations, preventing it from building up land.
One recent action that may help the Mississippi return to its role as a nurturer of the marshes and estuaries is the impending closing of the Mississippi River Gulf Outlet. Known as "Mr. Go," the 1960s Army Corps of Engineers project to improve ship navigation has been blamed for speeding up the loss of wetlands, and even for amplifying the effects of the storm surge from Hurricane Katrina.
While a rebirth of the wetlands could take decades, Davis said there is plenty that can be done now. "You can begin to make people safer sooner if you make sure you're not building in harms way; and not encouraging building techniques that are more vulnerable to storm risk."
Marsha Walton, CNN science and technology producer
Filed under: environment