Scientists who focus their time on the Red Planet cheerfully call themselves "Martians".  Well, it turns out these "Martians" know their turf well – and  have hit some pay dirt in the Arctic region of the Fourth Rock from the Sun. Mars Odyssey spotted the telltale signs of water ice beneath the surface from orbit a few years ago. It was that finding that helped the Martians choose a landing site for Phoenix.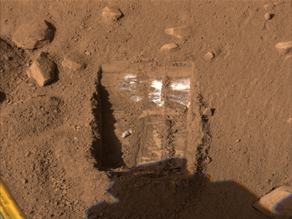 Image: NASA/JPL-Caltech/University of Arizona/Texas A&M University/SSV
And from the moment they touched down, they saw the tantalizing signs that the ice was there – just a few inches beneath the rusty regolith. The dozen pulsed rocket thrusters cleared off a spot that was clearly white. Could it be ice? No way to dig right beneath Phoenix – but the once the arm and shovel got to work making some shallow trenches, it didn't take long to find that white subsurface once again.
But was it the cool find Principal Investigator Peter Smith and his team at the University of Arizona had hoped for? Or was it something else?
But then something telling happened. Some dice-sized white crumbs disappeared from one of the trenches over the course of a few days. What could or would disappear like that?
You guessed it. Water ice. It doesn't melt there (way too cold for that), but it does sublimate (go straight from solid to gas) in the wispy atmosphere of Mars.
So now the team just has to grab some of those "dice" before they sublimate – and toss them into the oven on Phoenix' deck – and see what is inside. Could there be some organic material frozen inside? If so, that would be a big piece of evidence that there was (or maybe even is) life on Mars. I guess it all comes down to a roll of the "dice".
– Miles O'Brien/CNN Space Correspondent
Filed under: Mars • NASA • Space