A noisy, 450 pound scared mother. A terrified three- year old, possibly in pain, not only separated from mom but now surrounded by 30 strange creatures.
But wait. This one has a happy ending.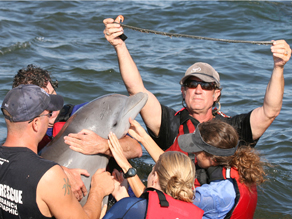 Veterinarian Dr. Juli Goldstein (with visor) examines the young dolphin, as rescue supervisor Steve McCulloch holds up the belt that was stuck around its neck. Photo: E. Murdoch, Harbor Branch Oceanographic Institute
After nearly 14 hours of trying, a team of scientists, veterinarians and rescue staff from Florida's Harbor Branch Oceanographic Institute successfully removed a car fan belt stuck around the neck of a young dolphin calf late Thursday.
The entangled male calf was first spotted June 6. From that initial sighting, Steve McCulloch, program manager for the Marine Mammal Research and Conservation Program at the Institute in Fort Pierce, started the complicated logistics of gathering boats, people, equipment, and, oh yeah, finding this poor critter again when its range covers 40% of Florida's east coast.
The rescue team found the mom and baby in the midst of about 80 other dolphins Thursday afternoon.
McCulloch said some deft boat maneuvering by Captain Larry Fulford managed to separate the mom, named BITT, and her son, known as c1BITT (BITT's first calf) from the others in the group. They were in about four feet of water in the Indian River Lagoon near Melbourne.
The rescue team had to act fast.
"Young dolphins, especially young males, can show very high stress," said McCulloch. He said they can even die from "capture shock."
First, the marine mammal experts released Mama BITT from the net.
"She was showing some definite un-Flipper-like behavior," said McCulloch.
But like a good mother she waited just a few yards away, trading encouraging whistles with her son. McCulloch cut off the hard rubber automotive belt. Veterinarian Dr. Juli Goldstein did a quick physical exam, and gathered some tissue for a DNA sample. She also put a tag on the youngster's dorsal fin so he would be easier to spot once he was freed.
"It's just a feeling of exhilaration, the entire team was just jubilant. It was a huge relief that everything had gone safely and nobody got hurt," said McCulloch.
The efforts of the team from Florida Atlantic University saved this animal from a slow, agonizing death. Like human babies, young dolphins play with whatever they can put in their mouths. Usually it's mangrove roots or tree branches. But if a fan belt or a hunk of plastic or trash is floating around them, they'll play with that, too.
"What we do to the environment is reflected in these animals. We need to be careful," said McCulloch.
So the next time you think about littering… think about whose baby you might be putting in danger.
Marsha Walton, CNN science and technology producer
Filed under: Animals • environment