He was one of the funniest humans ever.  I rode in on the bus today listening to a compilation of his monologues, and several times, I busted out laughing in a way that's generally considered unseemly on public transportation.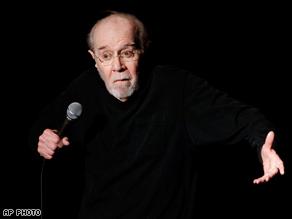 So my flimsy excuse for paying tribute to George Carlin on a Science blog is to assemble a few of his observations.   He was full of wisdom, and at his best while pointing out that most of us are full of something else entirely.  Since his death was reported on Monday, CNN has played a clip of Carlin taking an unnamed CNN weatherman to task for using a phrase like "rain event."  It got me to thinking about some of his other observations on science and tech stuff.  Feel free to add your own, but as is often the challenge with George Carlin, keep it clean!
On Energy:
"Electricity is really just organized lightning."
On Human Intelligence:
"Think of how stupid the average person is, and realize half of them are stupider than that."
On Intelligent life in the universe:
"If it's true that our species is alone in the universe, then I'd have to say the universe aimed rather low and settled for very little. "
On Meteorology:
"Weather forecast for tonight: dark."
On Invention:
"When Thomas Edison worked late into the night on the electric light, he had to do it by gas lamp or candle. I'm sure it made the work seem that much more urgent. "
On Aviation:
"If the "black box" flight recorder is never damaged during a plane crash, why isn't the whole airplane made out of that stuff?"
On Nature:
"I like it when a flower or a little tuft of grass grows through a crack in the concrete. It's so f***in' heroic."
"It isn't fair: the caterpillar does all the work, and the butterfly gets all the glory. "
and
"If a turtle doesn't have a shell, is he homeless or naked?"
On Electronics:
"Why do you press harder on a remote-control when you know the battery is dead?"
On Military Technology:
"The very existence of flamethrowers proves that sometime, somewhere, someone said to themselves, "You know, I want to set those people over there on fire, but I'm just not close enough to get the job done."
Peter Dykstra, Executive Producer, CNN Science, Tech, and Weather
Filed under: Uncategorized