What do the Numa Numa guy and Perez Hilton and Kos and the Obama Girl have that you don't? Why can't you be an Internet sensation, too? There's no reason why you can't, says a guy who's ridden the web to his own level of fame, though perhaps not quite yet fame on the scale of, say the Chocolate Rain guy.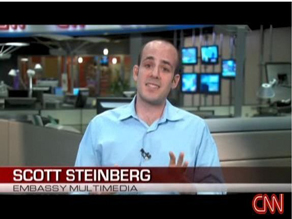 Scott Steinberg, publisher of the tech web site DigitalTrends.com, says there are lots of ways anyone can achieve fast fame on the web without spending a lot, if any, money. He's done it by writing a book, "Get Rich Playing Games." Steinberg says, "If you publish a book on anything, suddenly you're an expert." And his work led to interviews on CNN and lots of other media outlets. Yet he says the book cost peanuts to produce, thanks to online print-on-demand.
Steinberg says print-on-demand services like Lulu, iuniverse, Wordclay, AuthorHouse, and BookSurge let would-be authors publish a book for as little as eight dollars up front. And he says that for as little as a few hundred dollars you can have a hardback or paperback copy with professional illustrations, an ISBN number and distribution to Amazon and Barnesandnoble.com.
But you don't have to write a tome to get noticed. You could come up with an iconic symbol or a new catchphrase, and have it put on bumper stickers, t-shirts, or mugs, for all the world to see (and buy). Steinberg says, "Anything that you've seen in a store you can produce for pennies using your own custom designs." Who knows, you might create the smiley face for the 21st century!
Maybe you have a catchy slogan, photo, or piece of art. Steinberg recommends checking out sites like Zazzle, CafePress, PrintMojo, and Spreadshirt . Such sites can plaster your idea on any number of keepsakes or accessories, from beer steins to thongs. And they'll sell your creations for you, managing inventory and Paypal. Steinberg says, "You worry about the spotlight, let them handle the details."
Maybe you don't care about selling anything - maybe you want your FACE famous, a la "Leave Britney alone!" guy. (I think he's a guy.) Steinberg says all you need is a $20-$40 web cam or a $100-$200 camcorder, and a Mac or PC. Then, Steinberg says, "All you need is time and energy and something interesting to talk about." You can upload your thoughts not only to YouTube, but to Viddler, which Steinberg says accepts longer videos than YouTube, or Metacafe, in which users vote for the best content and push it to the front page.
You don't actually need to shoot video and edit it. You could start your own live streaming video channel, and interact via chat rooms with your viewers, on sites like justin.tv. I just spent five minutes there watching a guy beat a boss in Zelda as he narrated and responded to often inane chat room chatter. (That's five minutes of my life I'll never get back.) There's also Ustream.tv, Stickam.com, and BlogTV.com, where I lost a couple of minutes watching a kid named Adam lip synching and emoting to Bohemian Rhapsody. He didn't stop even when his phone started ringing.
Of course, there's also blogging. You don't have to create your own blog from scratch - Steinberg says there are myriad sites like LiveJournal, Blogger, and WordPress (which, of course, you're reading now) that will host your blog. One WordPress blog - stuffwhitepeoplelike, was launched in January and already has led to a book deal with Random House - "The Definitive Guide to Stuff White People Like" comes out next month. SciTechBlog is still waiting for its book deal.
In planning your way to web fame, Steinberg says you need to be original and singular – avoid what everyone else is doing. Find a topic no one else is tackling (or at least not tackling well) and keep your message clear and consistent. Your readers or viewers need to be able to understand what you're saying almost immediately.
Then, let your personality come through. The celebrity gossip blog PerezHilton.com is dripping with personality. Steinberg says the site gets nearly nine million page views a day and the creator now has his own VH1 TV series and gets paid to go to clubs.
Finally, Steinberg says you need to promote yourself. Start a page on social networking sites Facebook and/or Myspace. (You can also start your own personalized social network with Ning, CrowdVine, and KickApps.) Talk yourself up in newsgroups and Internet forums. Send out press releases. But be careful not to cross the line between promotion and obnoxiousness. As a journalist, I get releases from folks who cross that line regularly!
Steinberg says you shouldn't seek fame via the Internet in order to get rich overnight. Do it because what you think matters just as much as what a celebrity thinks.
Steinberg's tips for fast fame must have some validity - I'm blogging about him, right?
Diane Hawkins-Cox, senior producer, CNN Sci-Tech Unit
Filed under: Internet