It may sound backwards, but that is how two Duke professors suggest we gauge fuel economy.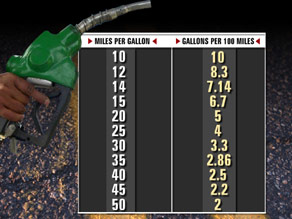 MPG to GPM Conversion Chart
Richard Larrick and Jack Soll of Duke University's Fuqua School of Business say the phrase 'miles per gallon' misleads consumers.
The premise of their study, published recently in the journal Science, is that you save more gas by switching from a 10 to a 15 MPG car than by trading in your 25 MPG ride for, say, a 50 MPG Prius.
If you're scratching your head, consider the following equation:
Driving a 10 MPG SUV for 100 miles requires 10 gallons of gas, while one that gets 15 MPG will burn 6.7 gallons of gas on the same trip. So the jump from 10 to 15 MPG is a savings of 3.3 gallons of gas.
On the other hand, the 25 and 50 MPG cars burn 4 and 2 gallons, respectively, on a 100-mile drive. That is a savings of only 2 gallons compared with the SUV driver's 3.3 gallons. You see?
So when it comes to saving money, Larrick and Soll say it's less about buying the most fuel-efficient car, and more about removing the most inefficient vehicles from the road. They recommend fuel efficiency be displayed as 'gallons per 100 miles' (GPM) instead of the traditional MPG.
That way, instead of aiming for a car with the highest MPG, consumers would be striving for the lowest GPM rating.
The point is to help consumers easily understand the amount of gasoline they will save when they trade in a car.
It's simple math. To calculate gallons per 100 miles, simply divide 100 miles by the vehicle's MPG rating. However, this calculation is not one consumers seem to do when considering a new car.
For example, Larrick and Soll asked participants in their study to decide whether replacing 15 MPG vehicles with 19 MPG ones was better or worse than exchanging 34 MPG vehicles for those with 44 MPG ratings.
Groups given the vehicles fuel efficiencies in MPG chose the wrong answer of 34 to 44 MPG 75% of the time. On the other hand, people given fuel efficiency choices in GPM made the wrong decision only 36% of the time.
So yes, it's still true that driving vehicles with the highest fuel efficiency possible is still best for the environment, but as gas prices rise will consumers be making their trade decisions for Mother Nature or their wallets? If it's the latter, they may need GPM instead of MPG to make the best choice.
Test your MPG understanding at: http://www.fuqua.duke.edu/news/mpg/mpg.html
- Julia Griffin, CNN Science & Technology
Filed under: Cars • economy • environment • Fuel • Gas • Gasoline • Uncategorized