The highly trained military aviator moves the stick right and rolls in on a target— an Al Queda training complex in Iraq somewhere near the Syrian border.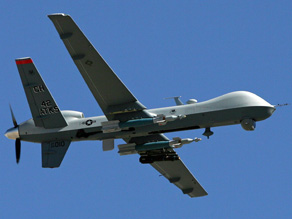 Source: Getty Images. UAVs, like the Predator, have already logged over half a million flight hours in Iraq and Afghanistan.
The pilot selects Hellfire missiles, pulls the trigger, and blasts the installation into oblivion. He then pulls up, sets course for home, slides back in his rolling chair and takes a sip of coffee. He is sitting in a dark room almost 6,000 miles away from his aircraft.
Step aside Maverick and Goose. This past March, the United States Air Force announced it will be seeking an increased budget for unmanned aerial vehicles, or UAVs, from $334 million in 2008 to $540 million next year—a 60 percent increase.
If military decision-makers have their way, the heyday of aerial dogfighting performed by hot shot pilots will be a thing of the past. UAVs already play an integral role in the country's current conflicts, having already logged over half a million flight hours in Iraq and Afghanistan.
Given these surprising statistics, many military pilots fear that their jobs may be in jeopardy. It's borderline science-fiction to think that a pilot, who has trained for hundreds of hours, could be replaced by an autonomous flying machine.
A close friend of mine, a midshipman at the Naval Academy, is convinced that he'll be among the last generation of military pilots that will actually fly an aircraft from the inside.
But are military strategists letting their enthusiasm for unmanned vehicles run wild? Some want to begin to employ autonomous robots capable of making their own kill decisions—a scary prospect for industry experts.
In friendly skies over the United States, non-military pilots are concerned about UAVs, too. During my first flying lesson, my instructor taught me the simple skills required for dodging mid-air collisions: "see and avoid" he called it.
But as UAVs take on more roles in law enforcement, border patrol, aerial surveying, and other peacetime missions, how well will they see, avoid, and communicate with other aircraft in the nation's already busy airspace? That's still to be determined.
The Frederick, Maryland-based Aircraft Owners and Pilots Association (AOPA), a lobbying group for pilots of general aviation airplanes, advocates that any UAV integration into the national airspace system must be conducted without any harm to the current civilian airspace user.
As a pilot myself, sharing airspace with remote-control flying machines gives me the heebie jeebies. Still, the FAA has not outlined a definitive plan on how to deal with manned and unmanned aircraft sharing the same piece of sky.
Will the future of aviation remain human after all?
– Pete Muntean, CNN Science and Technology
Filed under: Aviation • robotics • science