Yeah, another bad headline - doesn't sound possible, you say?  You may be right.  But I just saved $350 outright because gas prices are so high.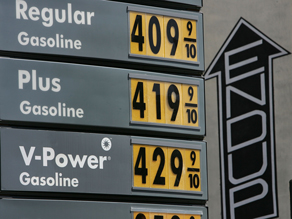 A decade ago, we opted to move pretty far away from the center city:  27 miles from the driveway to CNN Center in Atlanta.  The decision was largely due to the prospects for our three school-age kids:  A shaky, in-town school district versus a well-regarded one farther away.  And since the State of Georgia always finishes in the Top 50 among State Educational Quality, we went for it.
The kids have had a good shake in their schools, so no regrets.  But the costs for Daddy driving to work have included up to two-hour commutes, plus more recently, brutal gasoline costs, even with a 32MPG car.
A few years ago, in a nod more to traffic burdens than to energy or environmental concerns, Georgia rolled out commuter buses to far-flung places like Conyers, GA.  Five per day, from the commuter lot next to the Rockdale County Jail into downtown Atlanta.  So yes, I go to the County Jail at least twice a week.
Being in the 24-hour news business, I feel obligated to give you the Bad News First:  The last bus in is at 8am; the last bus back is at 6:15pm.   This does not always fit the bipolar nature of covering 24-hour news.  Bottom Line:  I can't always rely on the bus - not for late nights, or weekend work.  The Good News?  My employers have had the foresight to let me keep my parking privileges for when I have to drive, plus a part-time pass for the bus.
With minor inconvenience, I can take two bus trips a week to work, with little or no compromise to my workload,  saving 2 gallons of charitable donation to the oil companies per day, plus environmental benefits, per round trip.  But I called my insurer (GEICO), and they also told me that the reduced mileage on my car would save me about $350 a year on insurance costs.   Whoa!! Just think how much extra gasoline I can afford now!!!  I won't have to take the damn bus!!! (Just kidding).
Actually, the bus isn't bad.  It's still only about half full each day, which is amazing to me.  I can listen to my IPod on the way in (it has a lot of songs on it, and you wouldn't like most of them....), and I arrive at work bearing no anger to all the Barbarians and Fools who would tailgate me or cut me off on Interstate 20 on the way in (full disclosure:  It's never my fault as a driver; to quote Dustin Hoffman, I'm an excellent driver.) .  Oh, and on the way in,  I read stuff, too.  One more note:  They're considering Commuter Rail from many towns like Conyers, but 'round here, the feelings still run strongly about General Sherman tearing up the railroad tracks 144 years ago, so it may take a while longer for the State Legislature to warm up to the idea.
So I'd like to thank the Oil Companies, OPEC, the shrinking dollar, the increased international demand, the speculators, the guys who blow up the pipelines in Nigeria every week, and everyone else who's been blamed for high oil prices for making my ride to work more relaxed and a tad cheaper, at least twice a week. 
Peter Dykstra    Executive Producer   CNN Science, Tech & Weather
Filed under: Cars • climate change • environment • Fuel • Gas • Gasoline