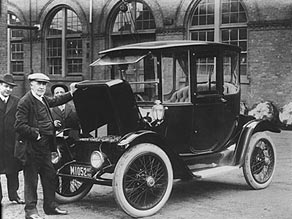 Thomas Edison with his electric car in 1913.
They produce zero emissions.
Electricity is cheaper than gas, and can come from renewable resources such as wind and solar power.
EV engines are far more efficient than internal combustion engines, are more reliable, and require less maintenance.
So what gives? Why don't we buy and drive electric cars?
Program Note: Watch Miles O'Brien's report on EV's on CNN TV, Thursday morning.
Posted by: Alex Walker -- Producer: CNN Sci/Tech
Filed under: economy • environment • Fuel • Gas • Gasoline