Well they're not moon shoes, but a new device called the iShoe developed by an MIT graduate student may have your grandmother channeling her inner astronaut.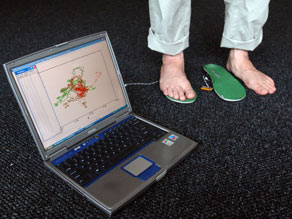 Lieberman demonstrates how sensors on the iShoe insole can diagnose balance problems.
That's because Erez Lieberman and researchers at the Harvard-MIT Division of Health Sciences and Technology are designing new sensory insoles that may soon help doctors diagnose balance problems in senior citizens before major falls occur.
It's based on a technology astronauts now use every time they return to earth, and one that Lieberman himself helped develop while an intern at NASA.
"The problem NASA faces is that the altered-gravity environment of spaceflight messes with the astronaut's sense of balance," says Lieberman, "[This technology] is currently being used to evaluate astronaut balance after return from zero-G."
Lieberman and the iShoe team are now testing a new version of the technology; one that can help the elderly by analyzing pressure distribution on their feet.
"If we flag the existence of the problem early, a doctor or physical therapist can come in and make a better determination of the causes," says Lieberman, "We can detect all kinds of effects. If a patient closes their eyes, our insole will know."
With more than 250,000 Americans breaking their hips each year during major falls and 1-in-4 dying within a year of their injury, the device would be a welcome help to doctors, patients, and their families. In fact, it was his grandmother's death after a fall that first inspired Lieberman to apply the NASA technology to senior citizens.
In the future, Lieberman hopes that iShoe will be equipped with technology that would help correct a patient's balance issue as it occurs. It could even sound an alert when a fall occurs.
"Eventually we hope to provide subtle auditory and vibrational cues which will help the person adjust their balance. These cues will help them stand up straight and walk around confidently," Lieberman says.
The iShoe team expects their product to be on the market with in two years.
- Julia Griffin, CNN Science & Technology
Filed under: Medicine • NASA • Scientists