A week ago, T. Boone Pickens rolled out his plan for using wind power and natural gas to lead America from the Energy Swamp. Based on your responses, some of you saw a visionary plan, and some saw a corporate swindler.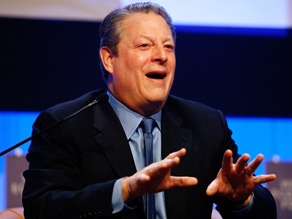 On Monday, President Bush rolled back an Executive Order originally signed by his Dad as a first step toward re-opening all of America's coastline to offshore oil drilling. Some of you saw this as an overdue necessity, and some saw a failure of leadership.
Through much of the current discussion about oil prices, discussions about global warming and conserving energy have melted away. Enter former Vice President Al Gore, who's scheduled a speech at 12 noon ET Thursday. CNN plans to carry the speech live, but we'd love to hear what you think.
Pickens. Bush. Gore. If this were Professional Wrestling, it would be a Steel-Cage Death Match. The only difference is that our economy and environment could be at stake.
So blog away. Once again, we really appreciate the thought and diversity of opinion in the hundreds of responses. Just please continue to be civil with each other!!
Peter Dykstra, Executive Producer CNN Science, Tech, & Weather
Filed under: climate change • economy • environment