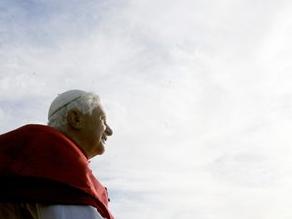 Pope Benedict XVI admires the sky aboard a harbor cruise with youths, in Sydney, Australia, Thursday, July 17, 2008. (AP Photo/Gregorio Borgia)
Pope Benedict XVI continues to speak out against global warming.
200,000 pilgrims from 168 countries are in Sydney for the Church's World Youth Day.
The following is an excerpt from the the 81-year-old pontiff's speech yesterday:
"Perhaps reluctantly we come to acknowledge that there are also scars which mark the surface of our Earth: erosion, deforestation, the squandering of the world's mineral and ocean resources in order to fuel an insatiable consumption."
He went on to say that care for the environment is of "vital importance for humanity".
Is this unprecedented? Have other popes addressed global warming?
The Roman Catholic Church has over a billion followers worldwide. Will this sort of public awareness campaign make a difference?
- Alex Walker, CNN Science & Technology
Posted by: Alex Walker -- Producer: CNN Sci/Tech
Filed under: climate change • environment • Religion