Researchers at the University of Minnesota have regenerated a rat's heart in the lab hoping they can do the same for a human heart.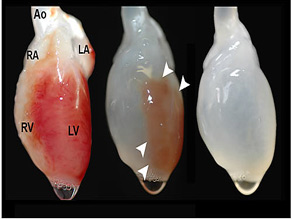 The three stages of a rat's heart decellularization. Photo by Thomas Matthiesen
With a rat's heart, they removed its existing cell structure by washing it off with a soap solution much like shampoo. After this decellularization process, they introduced new heart cells from another rat and attached it to a machine that functions like a body - complete with blood supply, blood pressure and a pacemaker.
"The first couple of days we didn't see much. By day four we actually saw tiny microscopic beating and by day eight it was the home run. We could actually see beating in the heart," says Professor Doris Taylor.
Taylor and her team are now working with a pig's heart because it resembles a human heart in size and shape. An actual transplant to a human is still many years away but Taylor says it is a possibility.
"It's not unreasonable to think that we could take a pig heart, remove all the cells and then if you needed a heart, take stem cells from your body, grow them in a dish and transfer them to a pig heart and make a heart that matches your body."
Researchers also say the same process can be done for other organs like the liver and kidneys.
What do you think? If you needed a new heart, would you wait until a suitable donor appeared or would you accept a pig's heart? Do you think stem cell research is the future or are there ethical implications?
Paulo Nogueira - Producer, CNN Science & Technology
Posted by: CNN Science & Technology, Paulo Nogueira -- Producer
Filed under: Medicine • science • Stem cell research