Rock Band 2, Gears of War 2, Fallout 3 and Resident Evil 5 highlight just a few of the new gaming titles on display at this year's E3 summit in Los Angeles. With new games costing millions to develop, adding a number to an existing title not only continues the story of a popular character, but also keeps the entire brand in the forefront.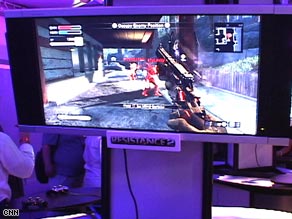 "Consoles are very much established now, it's tougher to launch new IPs (intellectual property)" says Peer Schneider, VP of IGN Entertainment. "Usually when a new console comes out, like XBOX 360, companies are more eager to establish new brands, but now we're at the point when you're spending a lot of money on development you wanna make sure games are selling."
Of course, if adding a digit to the title will not do, E3 also showcased the sounds of gaming. Wii music and Rock Band 2 provided the stage for gamers to dig into their inner air guitar persona and battle it out for rocker supremacy.
Rock Band 2, with its recently announced tracks from Bob Dylan and AC/DC, allows four players to choose from three instruments and vocals to live out their on stage dreams, while Wii music lets players dabble through a variety of instruments from drums to the trumpet to bring out their inner maestro.
Regardless of what anyone takes away from this year's E3, the gaming industry will continue to bring color, sound and the death of cyborgs to a console near you. Watch some highlights from E3
We'll see if the hype matches the results, but here are my top five games from this year's E3:
Honorable mention: De Blob/THQ, Too Human/Microsoft, Wii Music/Nintendo and Rock Band 2/Harmonix
5)Operation Flashpoint 2: Dragon Uprising from Codemasters – call this a hunch pick.
4)Little Big Planet from Sony
3)Gears of War 2 from Epic Games
2)Fallout 3 from Bethesda
1) Mirror's Edge from EA – anytime you take a first person view and do something new, plus receive the sensation of falling by watching Faith miss a jump, works for me.
– Dan Wright, Senior Producer, CNN.com Live
Filed under: Uncategorized