The CNN SciTech Unit is taking the show on the road.
This week I'll be in Oshkosh, Wisconsin for EAA AirVenture, the annual air show and aviation convention that hosts all-things-winged for one week in late July.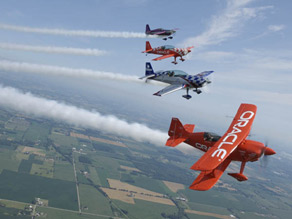 The Collaborators Aerobatic Team flying in a stacked formation at Oshkosh 2007. Source: EAA
The population of this charming town on Lake Winnebago nearly doubles as three-quarters of a million aviation enthusiasts and pilots descend, literally, for their yearly pilgrimage to the show known simply as "Oshkosh." The usually sleepy Wittman Regional Airport will become home to the world's busiest air traffic control tower, handling nearly 10,000 private airplanes that fly in and out of the event.
Expect to see the newest, cutting-edge airplanes—from frontline fighters like the Air Force's F-22 Raptor, to new introductions into the very light jet market like designs from Eclipse, Honda, and Cirrus Design. Also, you won't want to miss the afternoon air show, where the world's most talented pilots put on a magnificent sky dance.
It's a pilot's mecca—a great American tradition, one that I've been taking part in since I was in grade school. But that tradition may be at risk this year. With prices for aviation fuel soaring over $5 per gallon, many pilots may be leaving their airplanes in the hangar and canceling their Oshkosh plans. A new hope may be on the horizon, though: greener alternatives, like biofuels and electric power, may set a new course for the aviation industry.
It's yet to be seen whether the fleeting economy and increased expense of flying a private airplane will have a profound effect on the show's attendance. Aviators are of a rare breed and it would take a lot more than hefty costs to stop many of my pilot friends from making their annual trip. As for me, I'll be making my pilgrimage to Oshkosh once again this year—the fifth in my logbook—by air. Check back for updates from the show throughout the week on the SciTech blog.
See you at Oshkosh!
Pete Muntean - CNN Science & Technology
Filed under: Aviation