It's been a pretty exciting day for our first day on the road. We finished up doing three TV live-shots today in San Francisco – making my CNN TV debut after 13 years at CNN.com.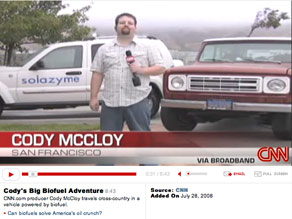 Then we got a quick tour of the Solazyme plant, where we saw a variety of algae oils which can be used to make everything from fuel for vehicles… to soap... to even food products.
In fact, we tasted some very delicious banana bread at Solazyme that was made from algae oils instead of the butter and eggs that would normally be used in a recipe. People on vegan diets will be interested in this kind of thing.
Now Brian and I are getting ready to head out to Yosemite National Park where, Tuesday at 9:40 a.m. ET on CNN.com Live, we're going to talk to park officials about their green initiative - and whether this year's economy is causing a drop in park traffic.
See ya'll then!
–Cody
Filed under: environment • Road trip