It took much longer than we expected to drive our 30-year-old International Harvester Scout from San Francisco to Yosemite National Park. Because we spent a lot of time looking for a spare tire before we hit the road, we didn't get under way until 3:30 p.m. local time.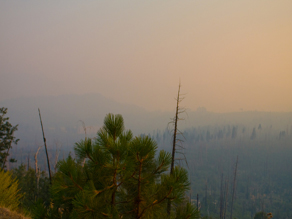 The park was shrouded in smoke from a nearby wildfire.
The vehicle, which you may recall we purchased sight unseen online, is getting roughly 22 miles per gallon. Sadly, our attempts to find a biodiesel fueling station located in Big Oak Flat, California, fell short. The station we were looking for was closed. As a result we had to put five gallons of regular fuel in the tank, in hopes that we'll find a biofuel station elsewhere.
It was 8 p.m. and the sun was setting when we finally arrived at Yosemite… the park shrouded in a bit of smoke from a nearby wildfire outside the park that has blackened about 29,000 acres and destroyed 25 homes and 27 other buildings.
Today, Kari Cobb of the National Park Service told us that, surprisingly, attendance at Yosemite is remaining the same this year, despite the slow economy and high gas prices because of an influx of more foreign visitors.
More to come...
–Cody
Filed under: environment • Road trip