There's a new challenger to Google, the 800-pound gorilla of Internet search engines: www.Cuil.com, which looks French but was developed by American ex-Google engineers backed by $33 million in venture capital. Pronounced "cool," the site began processing search requests Monday.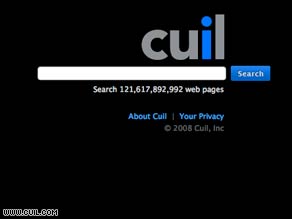 Cuil (apparently also a Gaelic word for knowledge) promises to search 121 billion Web pages - three times more than Google, it claims - and to deliver more relevant and helpful results. According to Cuil's site, its technology burrows into the content of each page to place results in better context than search engines that rank quantity of links to Web sites. Unlike Google, Cuil also promises not to collect data about its users' search histories.
Like a lot of curious folks Monday, I did a few random Cuil searches and compared the results to Google. If sheer numbers mean anything, my highly unscientific test revealed that Cuil has some catching up to do. A search for "Beijing Olympics" produced 20 million pages on Google, 1.1 million on Cuil. "Barack Obama" got 58 million Google hits; on Cuil, less than 6.5 million. Google also led its Obama results with recent news headlines about the presidential candidate, while Cuil's first page of Obama hits contained only biographical information from Wikipedia and his official Senate/campaign sites.
In fairness, though, we should probably give Cuil a few days to rev its engine up to full speed. A Cuil search Monday morning for "Siamese cats" pulled up nothing; you had to type in "Siamese cat" to get any results. By Monday afternoon that glitch was fixed, and "Siamese cats" produced 43,000 hits. Cuil also appeared to be overwhelmed by traffic from curious users, because another search Monday afternoon produced a near-blank page with the message, "Due to excessive load, our servers didn't return results."
I like Cuil's reader-friendly format, which arrays results in a magazine-like layout complete with thumbnail images and a few sentences of text instead of Google's bare-bones, pancake stack of links. I don't think "Cuiling" will replace "Googling" in the popular lexicon anytime soon, but it seems like a promising alternative. What do you think?
- Brandon Griggs, Tech Section Producer, CNN.com
Filed under: Internet