It's 12:30 p.m. and we just finished lunch at a Bakersfield, California, favorite called Luigi's Deli. The food and service were outstanding ( especially our sweet waitress ).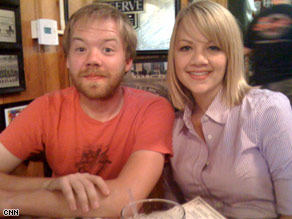 Co-pilot Brian and his sis' Amy, who graciously allowed us to crash at her place Tuesday.
After being up since 4 a.m. and having nothing but a few crackers and some sanity-supplying coffee, delicious food and blessed air conditioning was a welcome break. We spent the first part of the day shooting video of a fuel factory and interviewing a doctor who makes his own biodiesel fuel. We also posted a new photo gallery.
Now, we're headed to Las Vegas, Nevada, and nearby Hoover Dam. Along the way we hope to attach a pair of solar panels on the roof of our 30-year-old vehicle (with no a/c) to help keep the gadgets charged. Pretty cool.
See ya at 9:40 a.m. ET on CNN.com Live atop the massive Hoover Dam!
Cody
Posted by: Cody McCloy
Filed under: environment • Road trip