We bugged out of Hoover Dam to get breakfast, pick up a FedEx package ( more on that later) and arrange our next biofuel fill up. It gets hot here fast.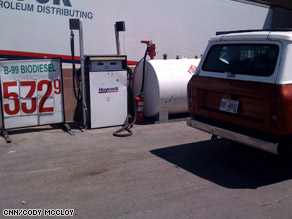 We filled up at Haycock before heading to Arizona.
Earlier, when we arrived at Hoover Dam at sunrise, it took less than an hour for the sun to reach scorching intensity.
And the next few days don't look any cooler. My iPhone weather outlook shows triple-digit temperatures through early next week.
Meanwhile, as we attempt to drive from California to Georgia on biodiesel fuel, our 1978 Scout is thirsty, and Haycock Petroleum came through for us. Haycock is a wholesaler to area Sinclair stations, which in turn sell B5 to retail consumers. Although we aren't a retailer, Haycock let us fill up the Scout and a fuel can with their higher-blend fuel. Maybe this will get us to Grand Canyon.
C ya,
Cody
Posted by: Cody McCloy
Filed under: environment • Road trip