Wednesday was quite the full day for us, as we blogged, broadcasted and outfitted our 1978 Scout while trekking through the desert heat of California and Nevada. (See our "vlog" video blog about it here.)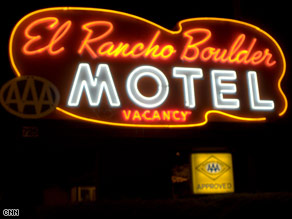 Yes we're staying in a hotel. It's mercifully close to where our live shot is on Thursday.
In the morning, we drilled holes in the Scout to mount solar panels that will power our gadgets.
Then after lunch (see blog entry below), we picked up a spare tire (don't tell my mom we drove 500 miles without one!) and headed out toward Vegas.
We made it to Barstow, California, before the heat got to us, the Scout and our batteries. My ever-drained, precious iPhone just wouldn't charge.
We took the opportunity to cool the truck off by parking in a lonely spot of shade outside a True Value home center. Several friendly staffers informed us that it was 104 degrees Fahrenheit and that we should be driving at night, when tempuratures are cooler.
After getting the solar panels installed we headed out on the road again. The Scout's temperature gauge occasionally climbed to previously unseen heights. We muddled through and finally arrived at our motel - which is mercifully only minutes away from Hoover Dam.
See ya at the dam!
– Cody
Posted by: Cody McCloy
Filed under: environment • Road trip