Wow! The Hoover Dam visit was spectacular! During our 9:40 a.m. ET appearance on CNN.com Live, we showed how HUGE this thing is..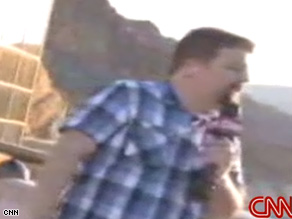 Hoover Dam's 726 feet are testing my nerves during the CNN.com broadcast.
According to the dam's Web site, it's constructed with enough concrete to pave a 16-foot wide highway from New York City to San Francisco. We spoke with two professors from the University of Nevada, Las Vegas, Tom Piechota and Bill Smith, who explained critical water-conservation issues and whether hydroelectric power can fit into the nation's future energy plans.
Next, we hit the road to Arizona's Grand Canyon, where we plan to check out the skywalk, a glass platform that juts out beyond the canyon rim and hangs about 4,000 feet above the canyon floor. Should be quite a view.
More to come...
- Cody
Posted by: Cody McCloy
Filed under: environment • Road trip